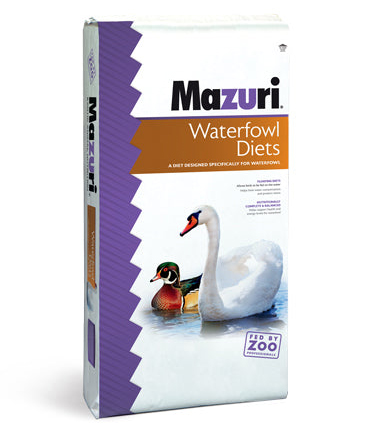 Mazuri® Waterfowl Breeder Diet is formulated to optimize breeding performance, egg numbers, fecundity and chick viability for common ducks and other ornamental waterfowl. This waterfowl food is designed to meet the nutritional needs of the vast majority waterfowl. Containing fishmeal, this floating waterfowl diet allows for feeding of birds in the water and helps limit the accumulation of uneaten food on the bottom of the feeding area limiting contamination and waste.
Nutritionally balanced – Promotes successful breeding programs and requires no mixing or supplementation.
Extruded floating pellet diet – Allows for feeding of bird in the water and prevents accumulation on the bottom of the feeding area, limiting water contamination and waste and creating a more natural feeding environment.
Sustainable fishmeal source.
Product Form:   Extruded pellet size:  3/8″ diameter x 3/16″ length
Product Size:     50 lb. net weight paper sack.