Greentree Products
Greentree Easy Pick
The smallest and most absorbent shaving. Clumps at the highest rate and doubles the life cycle of larger flakes.
Greentree Select
A medium particle with the best attributes of small and large flake products. Picks extremely well, while maintaining cushion.
Greentree Premium
A large flake engineered to be the softest under hoof and lowest in dust. Perfect for weekend shows, or other times when a quick cover is desired.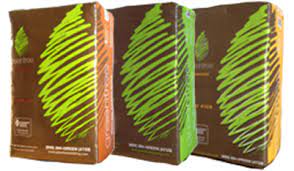 Wood Pellet
Northern Wood Fibers 40 lb Premium Horse Bedding Pellets is made from pine wood pellets.
Features:
Super absorbent
Easy to pick
Longer lasting
Renew Blend
This product goes through an intense screening process to ensure there is a small amount of fines found in our bag. For over 20 years we have kept our Northern Pine formula exactly the same, and customers across the Midwest consistently choose our Premium Northern Pine Wood Shaving.
Best Cob Horse Bedding
Best Cob Premium Horse Bedding is made from the lightweight, most absorbent parts of the corncob. These parts are compacted into pellets using only steam and water as binding agents, without the use of harmful additives or chemicals. The pellets break down into soft particles and become a highly absorbent bedding material. 100% natural, Best Cob Premium Horse Bedding will compost in as little as 6 months, 1/4 the time of wood shavings.