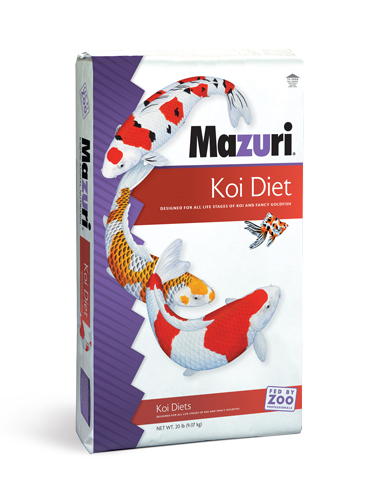 Mazuri® Koi Platinum Ogata are a highly palatable floating koi fish food designed to help keep your koi healthy and beautiful. Suitable for koi 12 inches or larger, these koi fish food pellets not only provide optimum nutrition for your fish but also contain spirulina algae and other nutrients for vibrant coloration. Plus, floating Mazuri® koi food encourages fish to come to the surface of your pond, tank or aquarium so they can be observed feeding.
Features and Benefits:
Complete nutrition – No supplement needed.
Stabilized source of vitamin C – Improves shelf-life and water stability and may help with resistance to stress.
Contains wheat germ – Favored by many koi feeders.
Sustainable fishmeal source used.
Highly palatable – Fish will eat it readily.
Floating particles – Fish can be observed eating.
Product Form:  Ogata – Extruded Nugget particle size: 5/16″ x 5 16″ length
Product Size:  20 lb net weight paper sack.
Feeding Directions:
Feed to koi in ponds or tanks as a floating feed.
Mazuri Ogata is suitable for all koi over twelve inches long.  For the same nutrition in different particle size, consider:

Mazuri® Koi Platinum Bits – suitable for fish up to six inches.
Mazuri® Koi Platinum Nuggets – suitable for fish greater than six inches long.

Feed only as much as fish will readily consume.

Do not over feed as excess feed will decompose in the water, resulting in poor water quality, which in turn can be harmful to the health of the fish.