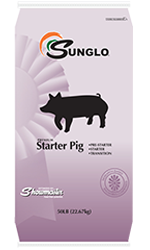 User friendly starter that offers an expanded feeding window. Formulated for young pigs from 25 to 65 pounds in bodyweight. Can be used after Sunglo® Pre-Starter and also after Sunglo Starter. Be sure to try 800/803 on bigger hogs that you are trying to increase shape and bloom prior to your target show. Many feeders find success blending 800/803 with either 16G or 18G to enhance their freshness and bulk either prior to jackpotting or before they hit their target show.
Guaranteed Analysis
Protein: 19.00%
Fat: 5.50%
Fiber: 3.50%
Lysine: 1.40%
Medication: Denagard*
Form: 1/8 inch pellet
*2 day withdrawl on Denagard
Available in ground or pellet.